Hotel de Larache
Description
The Hotel de Larache is situated next to San Pedro de Atacama. It adapts perfectly to the scenery of the desert: as in the traditional houses, the life happens in the main building and within the three courtyards. The rooms are opened to the hallways, which again lead to the yards. Water basins in the open are used as swimming pools and for irrigation - an ecological system very well thought through in a region where water is one of the most precious goods. Architecture and building materials are memories of the nature and culture of that area.
Hotel Information:
| | | |
| --- | --- | --- |
| Name | : | Hotel de Larache |
| Address | : | Américo Vespucio Sur 80, Piso 5 San Pedro de Atacama Chile. |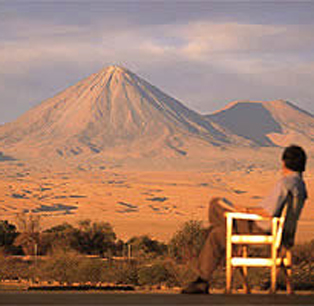 HOTEL SERVICES
Dining room, bar, room service, gift shop featuring 'explora', phone in rooms (national and international direct dialing service), game room with videos, laser disc and karaoke, laundry service, library, art gallery, quiet sitting areas inside and outdoor verandahs and patios, four connected outdoor pools, babysitting service up on request, sauna, massage services, private stables, meeting room up to 100 people. Safety locker for each room for the guarding all exploration gear.
ROOM DESCRIPTION
The sleek white lines of the hotel blend well with the local adobe architecture. The 50 guest rooms are brightly decorated with yellow, blue, and green wicker furniture, alpaca blankets, and fine linens imported from Spain. Four lap pools and four saunas await you, as does a new relaxation center, Casa del Agua, offering herbal oil massage and herbal baths. In the minimalist dining room, sample French chef Lorenzo Pascualetto's fire-roasted Patagonian lamb and to-die-for Chilean wines.